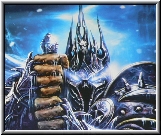 From BlizzCon Panels

Northrend will have two points of entry:

- Howling Fjord
- Borean Tundra

What about the Capital City: Dalaran (moved to Northrend)

Improvements and additions:

- Siege Weapons
- Destructible buildings

- New Battleground: 15 person battleround, 30-40 minutes estimated time to finish it
*Destructible buildings
*Siege Weapons

- New arena season, gear and map
- New, non-instanced pvp (Exterior PvP zone): Lake Wintergrasp

Introduction to the Death Knight Class

- Designed to fullfil both tanking and DPS roles
- Deathknights will tank with 2h or dual wield
- Death Knight is a hero class-- can't roll as a level one character, wanted to make it more epic (no level one Death Knights). Character class with two distinguishing elements-- have to unlock the ability to play one. Don't have to be a raider. Quest chain at level 80, like the Warlock epic mount quest, to unlock Character class. Story elements-- explain interaction with Arthas. Second element: Once you've unlocked it, you start off at a relatively high level (55, 60, 70-- not sure yet), with preexisting set of spells and abilities.
- Rune resource system. Three rune schools: Blood runes, frost, and unholy runes. All DK spells and abilities will use these different runes in some combo. DKs carve these runes into their weapon-- done anytime outside of combat.

- Will green items in Northrend be better than Tier 4? Yes, we do expect to see the same kind of progression. We were happy overall with the way it worked. If you're decked out in Illidan gear or the new raid zone that I can't mention just yet that will be out before the expansion (!), that gear will last you a while. But players like upgrades early and often.

- Are we going to have to buy new flying mounts again? Laughter. You'll not "have" to buy a new flying mount, but we'll have new options available.

In the cold, harsh northlands...
The Lich King Arthas has set in motion events that could lead to the extinction of all life on Azeroth. With the armies of the undead and the necromantic power of the plague threatening to sweep across the land, only the mightiest heroes can oppose the Lich King's will and end his reign of terror for all time.

Blizzard Entertainment's latest expansion to World of Warcraft – Wrath of the Lich King – adds a host of epic content to the existing game world. Players will achieve soaring levels of power, explore a vast new continent, and battle other high-level heroes to determine the fate of Azeroth. As you pit yourself against the dangers of the north...



Article © Warcraft News, Tips&Tricks, tutorials, patches, mods, informations, documentationShare