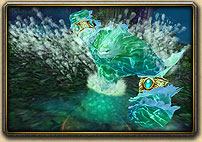 E3 2007: Zulaman infos, Voice chat and Guild bank



Some fresh infos from E3 2007 (Gaming Event in Los Angeles) on the following subjects Zulaman, Voice Chat and Guild Banks.

Zulaman (10 mans instance)

- Outside raid zone
- 4 animal god bosses (dragonhawk god, bear god, a lynx god and a god of evil)
- 2 final bosses after you defeated the four animal bosses: A Witch doctor boss and Zul'Jin himself.
- no key or attunements required
- Trash mobs who can call for help by beating on nearby war drums
- There will be quests that take place within the dungeon, including hunting for treasure and liberating four different hostages. The rescue missions will apparently be timed and will yield better rewards if completed early.


Voice Chat

Voice chat will be added to the game free of charge, will mute the game slightly whenever someone talks (so that you won't need to talk over any onscreen battles), and will use onscreen icons to indicate who's saying what, so that you'll be able to quickly determine which team member in your party is asking for help.


Guild Banks

The guild banks, will let guild officers create vaults to store the guild's entire possessions, as well as set permissions to limit access to certain items if they care to.


Article © Warcraft News, Tips&Tricks, tutorials, patches, mods, informations, documentationShare